Our History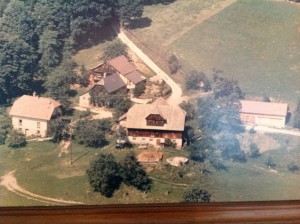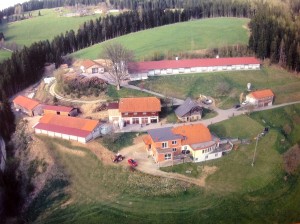 These two photographs that you see tell the story of 35 years of mountain farming at 1100 meters above sea level in beautiful Lavanttal, which is located in the South of Austria. My grandparents as well as my parents engaged in livestock farming. The horses we had were used as working animals and we also had dairy cows, pigs, sheep and rabbits. And they all had a very happy life at our lovely farm.
Back in the days when I still was a little schoolboy my family also grew grain, potatoes and sugar beets. As you can imagine all that was a big challenge for my parents – they had to manage 23 hectares of land, besides that built their own house and enable a higher education for their four children.
33 years ago my wife and I have taken over the farm and back then my father has handed over a typical sideline agricultural operation to me. At our farm we have always emphasized to produce organic products, free of any chemicals. In 2000 we decided to build the first bio-stable which created a space for 2000 organic turkeys. A few years later we have enlarged the stables for a further 9600 organic chickens.
Through diligence and hard work we became one of Austria's largest organic chicken farms which to a large extent we achieved because of our daughter Melanie. Melanie is one of the youngest masters in the poultry sector and she supports and helps us with great passion. In my opinion, for a mountain farming business such as we are, the way to success is to all pull together across generations.
The idea to Kokoto was born last year when I was drinking a glass of wine with my wife on our patio whilst we were watching the sunset. With Kokoto we want to pass on a piece of the wonderful paradise in the middle of nature where we live in, to all the other people.
Kokoto is free of any medications and antibiotics and is produced with our very own and healthy spring water. This great product is suitable for all types of plants and ensures you only apply the best treatment available to them.